Vienna, the capital of Austria, is not only renowned for its rich history, architectural marvels, and classical music but also for its vibrant culinary scene. The city's gastronomic offerings are a delightful blend of traditional Austrian flavors and contemporary global cuisines.
From cozy taverns serving hearty local dishes to modern eateries offering global flavors, Vienna's restaurant landscape is as diverse as its cultural heritage.
Now, we want to present you with a list of the best restaurants you can visit in this one-of-a-kind city.
11. Salm Bräu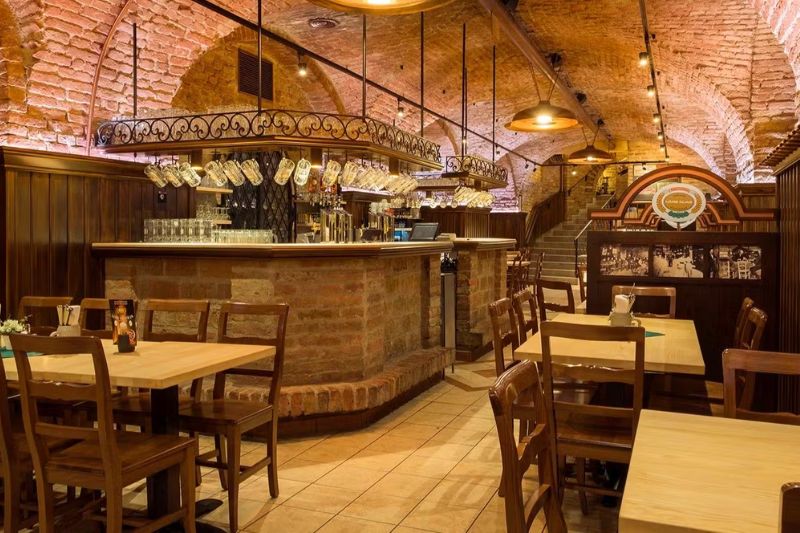 Located in the former servants' quarters of a Salesian Convent, Salm Bräu is a traditional brewery with a cozy setting. The restaurant is always bustling, indicating its popularity among locals and tourists alike. The ambiance is quaint, featuring rustic wooden benches and waiters dressed in traditional attire.
The menu boasts a variety of Austrian classics, with dishes served in generous portions.
Highlights:
World's oldest brewery machine manufacturers
Known for their ribs and pork knuckle
In-house brewed beer-tasting tray
Close to the Belvedere Palace
10. Figlmüller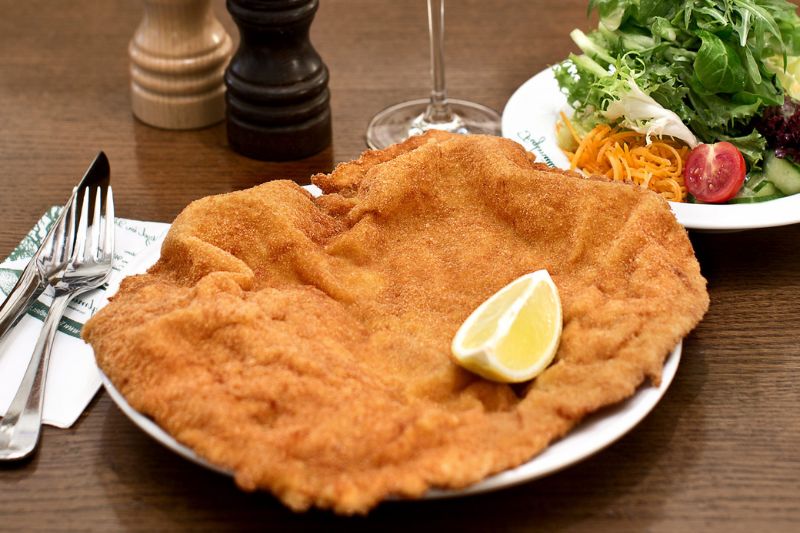 Situated in the heart of Innere Stadt, Figlmüller is renowned as the home of the original Schnitzel. This iconic restaurant has been serving the popular cutlet for generations. The ambiance is elegant, with immaculate tablecloths setting the tone. The Schnitzel, whether veal or pork, is exceptionally thin and crispy, making it a must-try.
Highlights:
Located in the city center
Home of the original Schnitzel
Accompanied by a creamy potato salad
Reservation is often required
9. Plachutta Wollzeile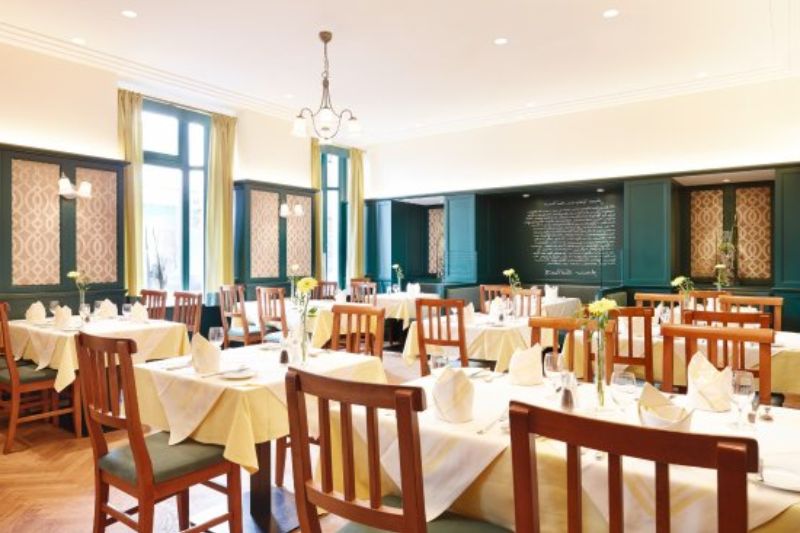 Plachutta Wollzeile is an iconic restaurant that offers a unique dining experience. It's best known for its Tafelspitz, a signature beef in broth dish. The interiors are sophisticated, and the atmosphere is low-key, making it perfect for a relaxed meal. The dishes are presented in copper cauldrons, adding to the traditional feel.
Highlights:
Located in the city center
Known for the original Tafelspitz
Sophisticated interiors with attentive staff
Reservation recommended
8. Zum weißen Rauchfangkehrer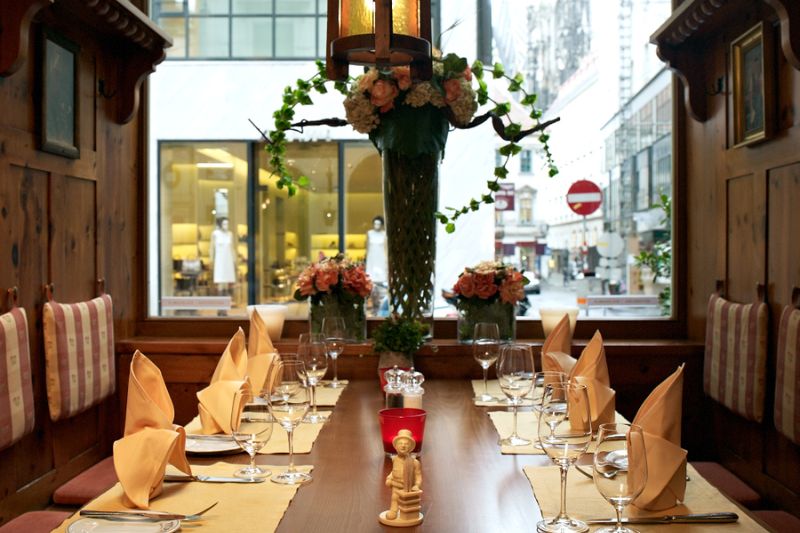 Offering an affordable fine-dining experience, this restaurant is a fancier version of a traditional Austrian eatery. The menu boasts a wide selection of classic dishes, all prepared with a focus on locally-sourced ingredients. The ambiance is atmospheric, with private booth seating and antler wall decor adding to the charm.
Highlights:
Fine dining with a traditional touch
Known for deer dishes and Austrian wines
Centrally located
7. Schweizerhaus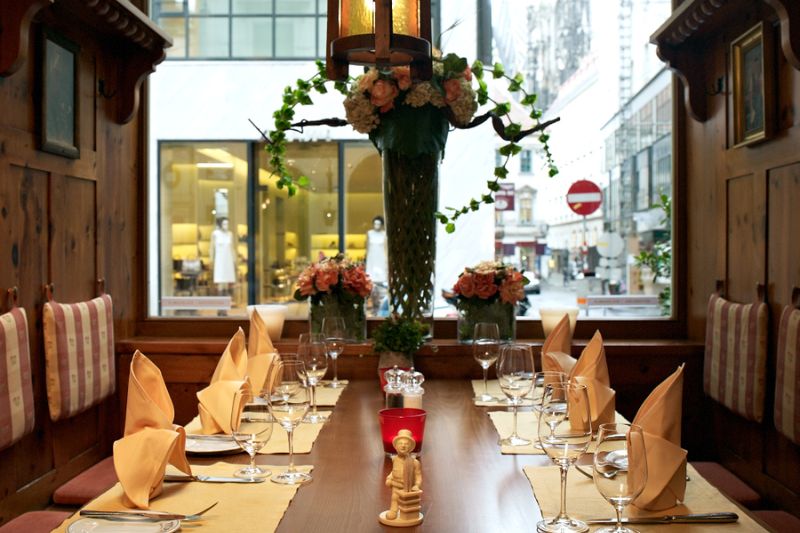 Schweizerhaus is a traditional beer garden located in Prater, Vienna's historic public amusement park. The ambiance is exactly what you'd expect from a beer garden, with large portions of food calling for mugs of beer. The garden is often packed, especially during summer, making it a lively place to dine.
Highlights:
Located in Prater amusement park
Known for Stelze (roast pork on the bone)
Family-friendly with a restaurant playground
Large beer selection
6. Brasserie Palmenhaus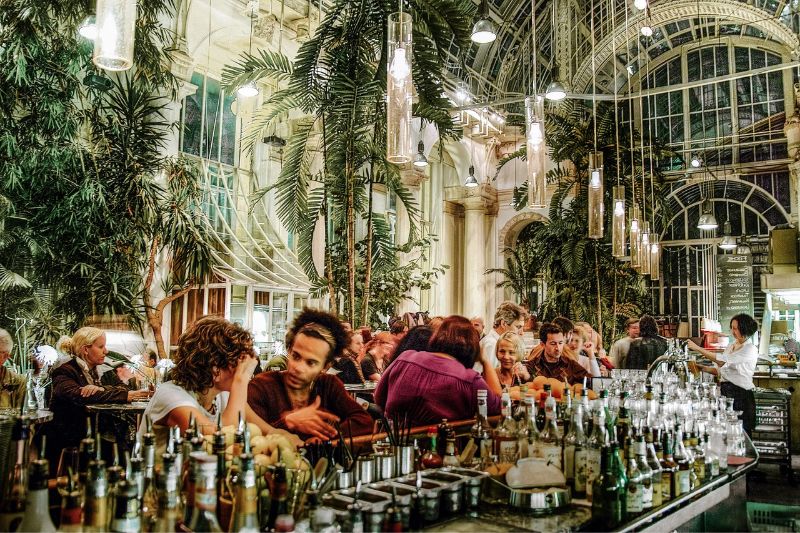 Brasserie Palmenhaus is set in a giant greenhouse on the edge of the Burggarten. The unique setting offers views of the landscaped garden and the Schmetterling Haus. While the food is average, the ambiance and location make it a popular choice for a casual lunch or dinner.
Highlights:
Located near Hofburg and the Albertina Museum
Unique greenhouse setting
Offers traditional Schnitzel
Outdoor seating available
5. Adlerhof Café, Bistro & Bar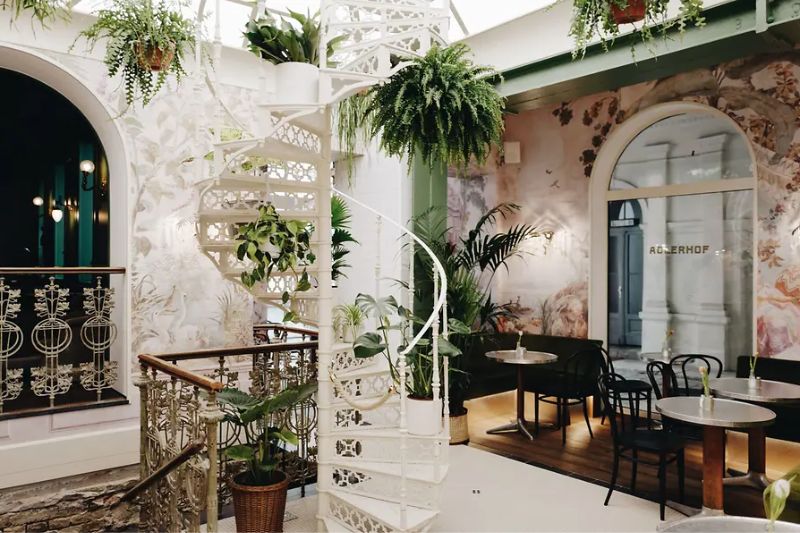 Adlerhof is a stylish eatery perfect for those looking for an Instagram-worthy dining experience. The interiors are adorned with lush plants, velvet couches, and a stunning spiral staircase. The brunch menu is modern and includes delicious vegetarian and vegan options.
Highlights:
Stylish and photogenic interiors
Modern brunch menu
Vegetarian and vegan-friendly
Located in the vibrant district 7
4. Gerstner K.u.K. Hofzuckerbäcker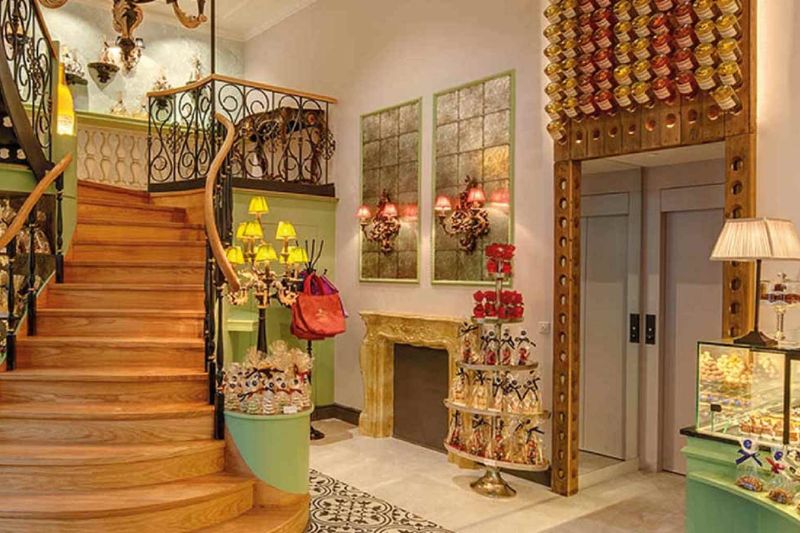 Located opposite the Vienna State Opera, Gerstner is one of Vienna's most fascinating coffee houses. The ambiance is luxurious, with crystal chandeliers, frescoed ceilings, and courteous staff. It offers a truly Viennese experience, making it a must-visit for anyone in the city. Highlights:
Historic coffee house setting.
Offers traditional Viennese dishes and desserts.
Luxurious ambiance without the hefty price tag.
3. Zur eisernen Zeit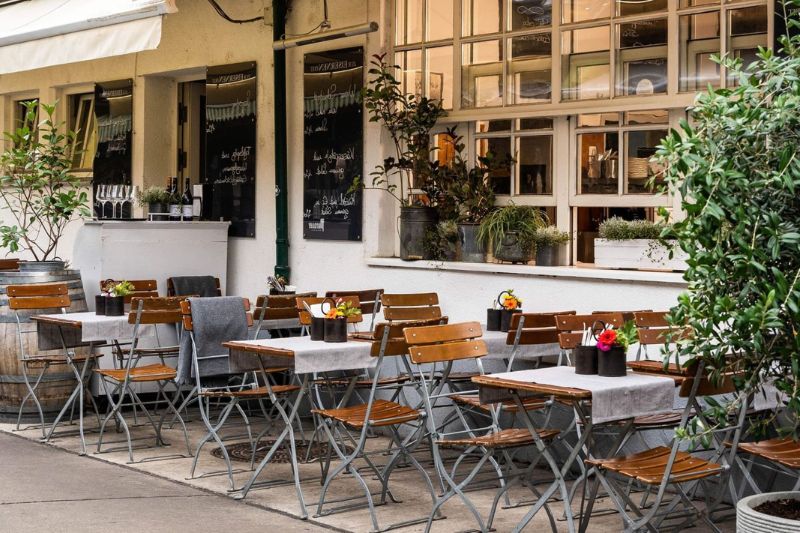 Located in Naschmarkt, this family-run restaurant stands out for its homestyle Austrian cuisine. The ambiance is laid-back, with limited outdoor seating available. The classic dishes, particularly their signature goulash, are a treat for the taste buds.
Highlights:
Family-run establishment
Known for signature goulash
Located in the bustling Naschmarkt
Traditional Austrian dishes
2. Lugeck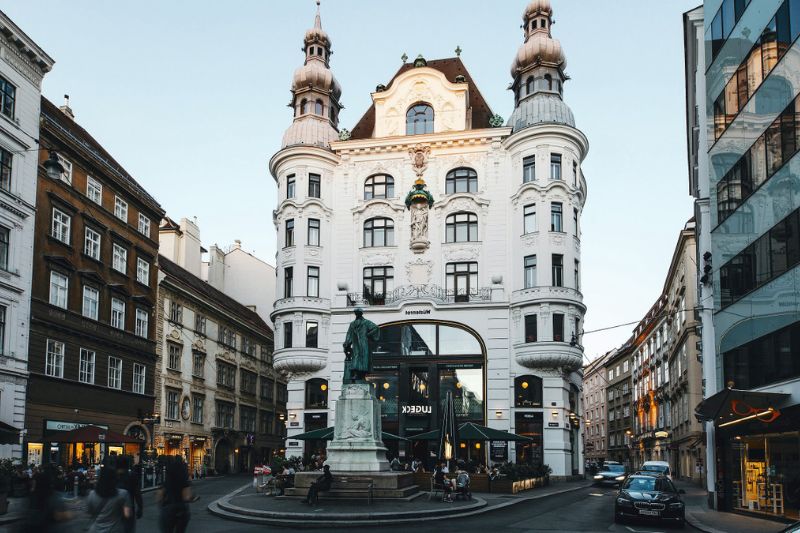 Lugeck is a part of the renowned Figlmueller family and offers contemporary reinterpretations of Viennese classics. The setting is refined and elegant, ensuring a delightful dining experience. The traditional dishes are prepared with high-quality ingredients and presented with great attention to detail.
Highlights:
Contemporary Austrian cuisine
Located in a picturesque building
Perfect for a casual lunch or dinner
1. Miznon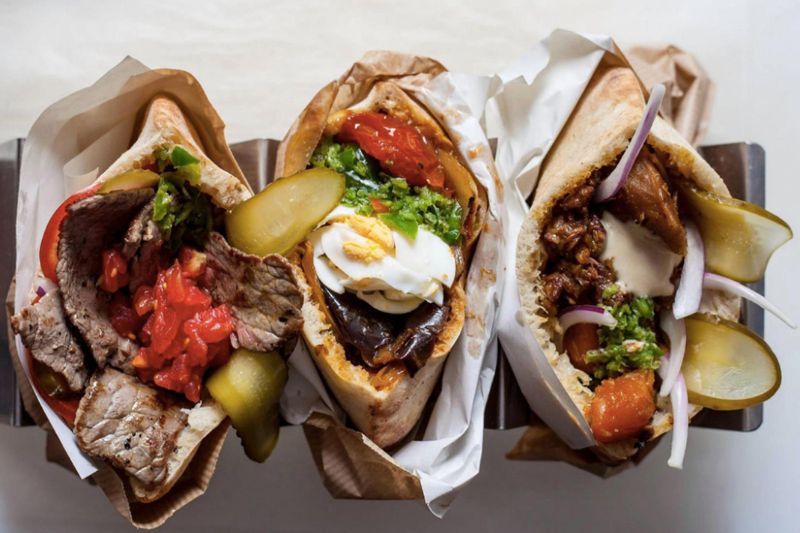 For those looking to take a break from traditional Austrian cuisine, Miznon offers a refreshing change. This Israeli chain, located right behind Stephensplatz, serves up delicious Mediterranean street food. The ambiance is casual and rustic, with a vibrant energy that's contagious.
Highlights:
Mediterranean street food specialties
Casual and vibrant setting
Central location near Stephensplatz
Seasonal menu with fresh ingredients
FAQs
What are the typical operating hours for restaurants in Vienna?
Most restaurants in Vienna open for lunch around 11:30 AM to 2:30 PM and for dinner from 6:00 PM to 10:00 PM. However, hours can vary, so it's advisable to check in advance.
Are there child-friendly restaurants in Vienna?
Absolutely! Many restaurants in Vienna are family-friendly, offering kids' menus and play areas.
Can I find international cuisines in Vienna?
Yes, apart from traditional Austrian dishes, Vienna boasts a diverse culinary scene with restaurants offering Italian, French, Asian, and other international cuisines.
What is the tipping etiquette in Vienna's restaurants?
Tipping is customary in Vienna. A tip of around 5-10% of the bill is standard for good service.
Are there any dress codes for fine-dining restaurants in Vienna?
While Vienna is generally relaxed about dress codes, some upscale restaurants might expect diners to dress smartly. It's a good idea to check with the restaurant in advance.
Is English spoken in Vienna's restaurants?
Yes, English is widely spoken in Vienna, especially in restaurants, cafes, and other places frequented by tourists.
Closing Thoughts
Vienna's culinary scene is a testament to its rich cultural tapestry, seamlessly weaving traditional flavors with modern culinary innovations. Whether you're a food connoisseur or a casual diner, the city offers something for every palate.
These restaurants listed above are just the tip of the iceberg, showcasing the best of what Vienna has to offer. So, the next time you find yourself wandering the cobbled streets of this historic city, make sure to treat your taste buds to a Viennese culinary delight.
If you are interested in learning more about this fantastic city, our site can provide more valuable information.